A games night was arranged for the young Muslimahs to get into a friendly competitive spirit. There were lots of games and snacks to enjoy throughout the evening. The winners received prizes and it was a great opportunity for everyone to bond.
Keep an eye out for more games evenings!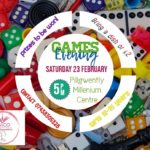 Subscribe to Keep up to Date
Check out some of the photos from the day!